Sliding Door Kit for Wardrobe: All You Need to Know
Imagine transforming your room with a sleek, stylish, and functional sliding wardrobe. Picture the ease of sliding your wardrobe doors open, revealing a well-organised and spacious interior. This is not just a dream, but a reality you can achieve with the right sliding door kit for wardrobe. Today, we take you through the journey of choosing the perfect kit, installing it with precision, and maintaining it for longevity. Let's get started!
Short Summary
Choose the right sliding door kit for your wardrobe based on size, aesthetic and budget.

Maximise space with a variety of colours and designs to suit any decor.

Regular cleaning and maintenance is necessary for smooth operation & lasting durability.
Choosing the Right Sliding Door Kit for Your Wardrobe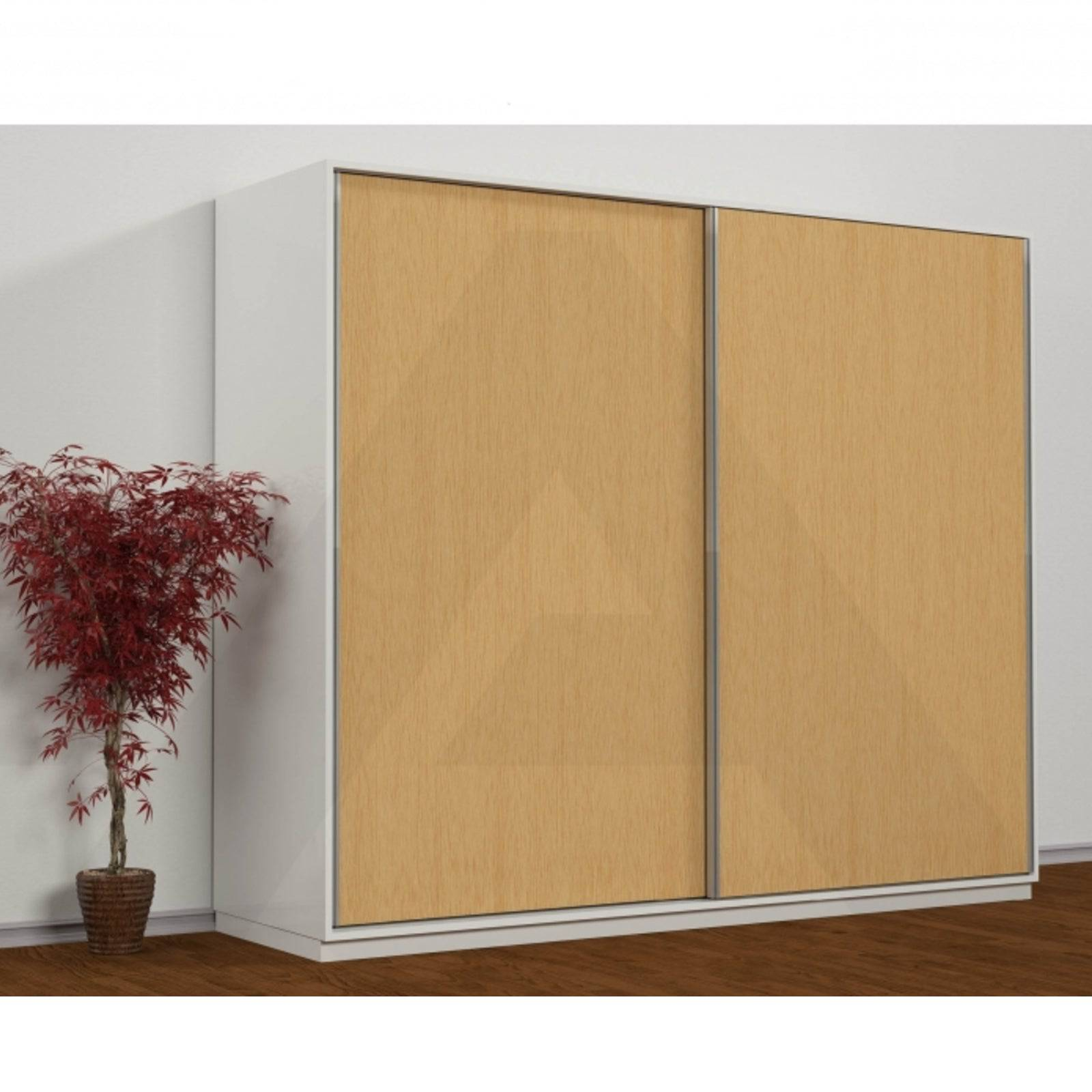 Selecting the right sliding door kit is like fitting together pieces of a puzzle. You need to consider the size, aesthetic, and financial aspects to find the perfect fit for your wardrobe. A made-to-measure sliding wardrobe door is a popular choice as it's easy to install and can instantly transform your room.
Companies like Sliding Robes Direct are committed to providing exceptional quality and a huge range of sliding wardrobe systems, including sliding wardrobes, in the UK and Ireland. The stone grey sliding wardrobe doors from Sliding Robes Direct, for instance, are a popular choice for modern and stylish bedroom designs.
Now, let's delve deeper into understanding how to maximise space with sliding doors, suit your style with various colours and finishes, and consider your budget.
Maximising Space with Sliding Doors
One of the primary advantages of sliding wardrobe doors is the space they save. Unlike traditional hinged doors that require clearance to open, sliding doors glide parallel to the wall, giving you more room to move and breathe. Moreover, sliding doors lend a perception of a larger bedroom, making them a fantastic choice for rooms of all sizes.
Sliding Robes Direct offers a variety of sliding wardrobe doors in versatile and stylish designs, such as the dove grey option, which can seamlessly blend with any bedroom design. Furthermore, these doors are available in a wide array of colours, designs, and finishes, allowing you to pick ones that best suit your home's decor.
Considering Your Budget
While sliding door kits can transform your room, it's essential to consider your budget before making a decision. The estimated cost of a sliding door kit for a wardrobe ranges from £100-£200, varying based on the size, material, and retailer.
To save money, we recommend shopping around, comparing prices, and looking for discounts or promotions. Remember, while price is an essential factor, it's important not to compromise on the quality of the sliding door kit, as this is an investment in your home that should last for years.
Components of a Sliding Wardrobe Door Kit
A sliding wardrobe door kit is more than just doors; it's a complete system designed to ensure the smooth operation of your sliding wardrobe doors kits. Each kit typically contains:
Aluminium profiles

Sliding door track

Sliding door runners

Sliding door stoppers

Profile Handles

Soft Close Mechanism
Additionally, kits from brands like Proslide include colour-matched steel top and bottom tracks, and bearing rollers, ensuring a smooth glide every time you open your wardrobe. Now let's delve into the details of each of these components, starting with the materials and designs of sliding doors.
Sliding Doors: Materials and Designs
Sliding doors come in a myriad of materials, each with its unique advantages. For instance, aluminium doors are lightweight yet resilient, resistant to rust, and can be painted in a variety of colours. Timber doors, on the other hand, are robust and long-lasting, and can be stained or painted to compliment the room's interior design.
Then there are PVCu doors, which are moisture-resistant and easy to clean, and alu-clad doors that combine the strength of aluminium with the attractive look of wood. Adding to this, there are a plethora of design options to choose from, including mirrored, frosted, and patterned glass, as well as wood and metal frames. This versatility of materials and designs allows for a high degree of customization to suit your taste and decor.
Tracks and Rail Systems
Tracks and rail systems are the backbone of your sliding wardrobe doors, providing smooth and effortless operation. These systems come in top-mounted and bottom-mounted varieties, and choosing the right one depends on the weight, width, and height of your door.
Ensuring the track is suitable for your door is essential to prevent any operational issues down the line. Remember, a well-installed track system will ensure a seamless glide every time you access your wardrobe.
End Panels and Wardrobe Interiors
End panels and wardrobe interiors are the unsung heroes in the ensemble of a sliding wardrobe door kit. They not only add to the aesthetic appeal of your wardrobe, but also offer functional benefits. You can choose from various types of end panels, such as those suitable for creating shelving or framing the wardrobe space.
Door liners are employed for the bottom track, while wall liners are utilized where the sliding doors meet the wall. Together, these elements contribute to the overall functionality and look of your wardrobe.
Ordering and Installing Your Sliding Wardrobe Door Kit
Once you've chosen your ideal sliding door kit, the next steps involve ordering and installing it. The first step in this process is to accurately measure the area in your room. Sliding wardrobe door kits can be sourced from various retailers, and some websites also provide advice on planning, measuring, and installation. Companies like Spaceslide make the ordering and installation process even easier by offering customizable and easy-to-install kits online.
But the question remains: should you go for DIY installation or hire professional services? Let's explore this further.
Measuring Your Space
Accurate measurements are crucial for the perfect fit and smooth operation of your sliding doors. You need to consider the following:
Height of the opening

Width of the opening

Depth of the opening

Interior wardrobe system and ensure there's adequate space for it
Spaceslide offers pre-sized wardrobe kits designed for specific openings, making the selection process much easier. And remember, to ensure the kit fits the opening perfectly, it's important to select the size accordingly.
Online Configurators and Design Tools
Visualising your sliding wardrobe doors and understanding their impact on the room's aesthetics can be challenging. That's where online configurators and design tools come in. These tools allow you to see how your chosen doors would look and provide real-time pricing.
Brands like Toolstation, Spaceslide, and Tommafold offer such tools, making the selection process much more intuitive and user-friendly. Spaceslide, for instance, allows customers to see the price in real-time as they create their design.
DIY Installation vs. Professional Services
The decision to install the sliding door kit yourself or hire professional services depends on your proficiency and the complexity of the installation. DIY installation can be cost-effective and fulfilling if you're comfortable with using tools and following instructions.
However, the potential drawbacks include the time investment required and the risk of improper installation, which could lead to safety risks and damage to the door. Hiring professional services can save time and ensure a safe and sound installation, though it may be costlier than DIY installation.
Chevron: Classic and Contemporary Designs
Chevron is known for its wide range of sliding wardrobe door designs that cater to various styles and preferences. Whether you prefer:
classic panel doors

shaker doors

French doors

contemporary designs like glass doors, mirrored doors, and chevron doors
Chevron Brand has got you covered.
Their doors not only enhance the visual appeal of your room, but also offer lasting durability. So whether you're revamping a traditional room or setting up a modern space, Chevron has something to suit your style.
Spaceslide: Customizable and Easy-to-Install Kits
On the other hand, Proslide offers customizable sliding door kits with easy installation options. Their kits come in a variety of sizes, all featuring lightweight and smooth-running tracks.
In addition to offering quality materials, Proslide also provides an easy online ordering process and comprehensive installation instructions, making the entire process seamless and hassle-free. Their commitment to customer convenience and quality makes them a brand worth considering.
Maintaining and Caring for Your Sliding Wardrobe Doors
Once installed, your sliding wardrobe doors need proper care and maintenance to ensure their longevity and smooth operation. Regular cleaning and lubrication are advised. Also, measures like installing a brush strip and using dust-blocking pelmets can help reduce the amount of dust entering the wardrobe.
Now, let's look into some cleaning and maintenance tips and common issues you might encounter with your sliding wardrobe doors, and how to troubleshoot them.
Cleaning and Maintenance Tips
Maintaining your sliding wardrobe doors is simpler than you might think. Regular cleaning with a damp cloth or an e-cloth can keep your doors looking new. For a smear-free finish, a diluted solution of white vinegar and water can be applied.
Additionally, it's important to vacuum the track and wipe it with a duster or cloth to keep it free from dust and debris. This simple yet effective cleaning routine can go a long way in maintaining the smooth operation and the aesthetic appeal of your sliding wardrobe doors.
Troubleshooting Common Issues
Like any home fixture, sliding wardrobe doors can encounter issues over time. These might include:
The buildup of dirt and debris in the track and rollers

Misalignment

Bent or loose track

Worn or loose rollers
To remedy these issues, follow these steps:
Inspect the track for debris and clean it out.

If you notice misalignment or a loose track, gently tap it back into place with a rubber mallet, or use screws to secure it.

Replace worn or loose rollers with new ones.

Use a vacuum cleaner to remove any obstruction in the track.
Summary
In summary, choosing the right sliding wardrobe doors involves careful consideration of your space, style, and budget. The right kit can not only add aesthetic appeal to your room, but also maximise space and offer convenient storage solutions. Remember to measure accurately, choose a reputable brand, and maintain your sliding doors regularly to ensure their longevity. Whether you choose to DIY or hire professional services, installing a sliding wardrobe door kit can be a rewarding and transformative experience for your home.
Frequently Asked Questions
Can you put sliding doors on an existing wardrobe?
Yes, you can replace your existing wardrobe doors with sliding doors. The job is straightforward for any competent DIY person, and works with either hinged or sliding doors.
Are sliding wardrobes cheaper than doors?
Sliding wardrobe doors tend to be cheaper than hinged doors due to the lower cost of components required for installation.
What is a sliding door kit?
A sliding door kit is a device which fits directly onto a doorway, allowing the door panel to move smoothly and quickly to one side, providing convenient access to cupboards or other rooms. It is a great way to save space and make a room look more organized. It is also easy to install and can be done in a few simple steps. The kit includes all the necessary hardware and instructions for installation. It is a great way to add a modern touch to your home.
Are sliding wardrobe doors any good?
Sliding wardrobe doors are a great option for modern homes where space is limited, offering an efficient and luxurious way to store your belongings and add extra floor space.
They also make an excellent choice for guest bedrooms, providing ample storage in small spaces.
What factors should I consider when choosing a sliding door kit?
When choosing a sliding door kit, consider the size, aesthetic appeal, and budget to ensure the best fit for your wardrobe. Think about the size of the door kit. Measure the space you have available and make sure the kit you choose will fit. Also consider the aesthetic appeal of the kit. Choose a style that complements the style.